I was convinced that I could beat hundreds of people and secure a spot in the first three places for the H&M grand opening in Delhi. A Rs.15,000 gift voucher was at stake.
But more exciting was the thought of standing in queue from 6 am on opening day and battling the odds (and other people) to emerge victorious.In my head, 'We are the champions' was cued and ready to play.
But I was deluding myself.
Well over 24 hours before the inauguration, there was already a line in place outside Delhi's Select Citywalk mall.
This was clearly serious business.
First in line was Abhinay Gupta, all of 24, and the one you need to be jealous of if you had plans to bag the ultimate prize. But then to beat Abhinay, you needed to have got to Select Citywalk at 4.30 am.
On October 1, mind you - NOT October 2, opening day.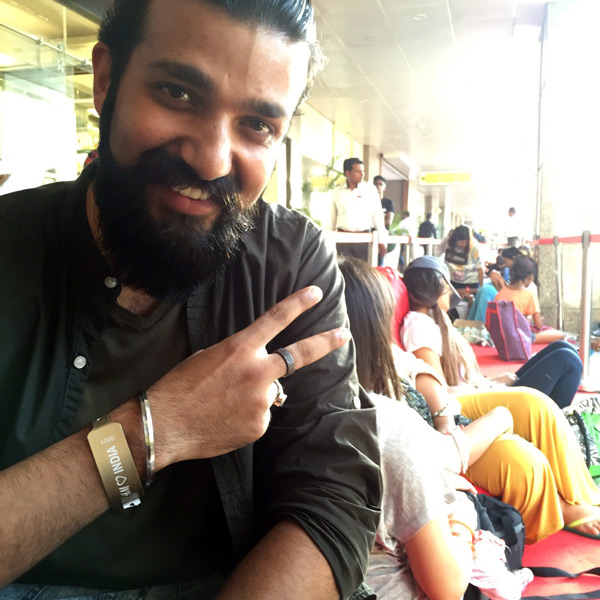 We showed up the afternoon of October 1 and chatted with the young chap. When the store opened the next day, he'd given about 30 hours of his life to the mall. But at that time, we wondered if he'd retain his enthusiasm - and his spot in line - till day zero.
It got better - or worse, depending on how you look at it.
Abhinay's friend Tania Vaish, a hardcore fan of the brand, was also in line. She's been tracking H&M's movement into India for six months now - but today, she was at #36.
Talking to them I realised I hadn't been even half-serious about this whole stunt. Because those that were serious - about 50 people - got there October 1 and then quite simply didn't go home.
Think about that for a minute. Around 50 people stationed themselves outside the mall an entire day in advance to get into a new clothes store early. I was intrigued at just who they were, and why this seemed to make sense to them.
They were of all ages. They dotted the corridor leading into the mall, assuming various postures. Some were standing, pushing the limits of their stamina; others sprawled on the floor. Some were huddled in groups, a few fast asleep, and a handful of the wandering variety.
Among this motley crowd, a few stood out. Saurav Bakshi, a class X student with an exam a day after the opening, was one of them. Yet there he was in queue, H&M wristband in hand, parents and exam jitters not on the horizon.
Armed with bean bags, books, blankets, food, laptops and phone chargers, a majority of those sprawled on the red (waiting) carpet knew what they had gotten themselves into. They came prepared.
But there was the odd group or two who had no clue that this would turn into a serpentine test of their patience and sanity.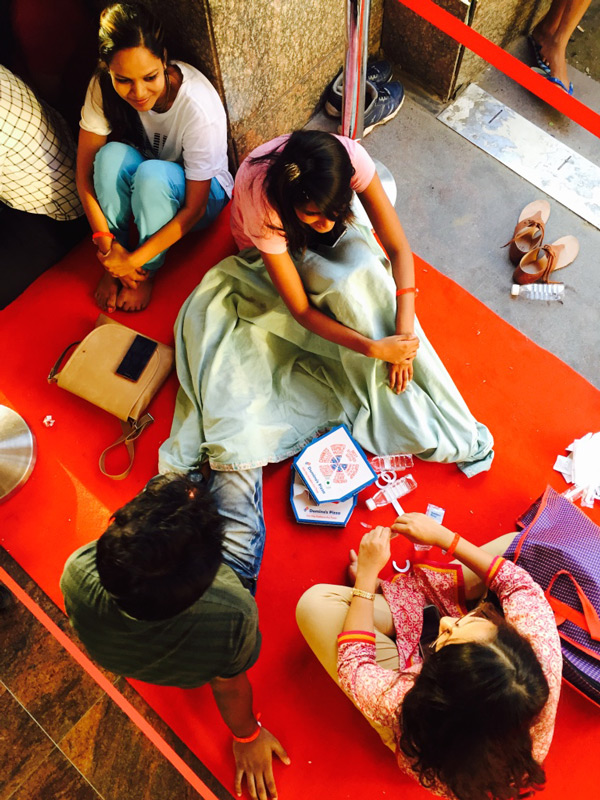 We were curious about the logistics: how did it work? What if you needed a loo break? How about if someone took your place?
No chance of that: this was planned with precision. Depending on when you arrived, you'd get a tag with a number. Every two hours, you were 'allowed' a 20 minute break: the organisers gave you a slip with the time marked so they knew when you'd left the queue. If you were gone longer, you'd lose your spot.
Food and drink was served. Night-time saw guitar tunes and songs being belted out. Comedian Kanan Gill made an appearance to help boost the morale of the drained-but-determined lot.
Camping out overnight for a store opening is usual in other parts of the world but it's relatively uncommon in India.
Sure, hundreds of people queued-up for a few hours when Starbucks and Krispy Kreme first opened here. Standing in line at the crack of dawn to buy cheap tickets for movies in Chennai is well-known. Cricket fans have done the same time and again for matches. Recently we saw mile-long queues in Hyderabad before the release of Baahubali. And every other one of us has gone through this drama to score tatkaal tickets at a train station once or twice in our lives.
But overnight, and for a clothing store? H&M is a definite first.
Abhinay certainly got his story.
So, too, did Grace - #2 in line. She's creating a family tradition of sorts. Her mother, years ago, had won a similar rat race in Phoenix, Arizona during the opening of Topshop, another fashion retail chain.
While some were there for the experience, others were all about the fashion. A group of college girls had bunked class and swore they'd give up food and save for clothes. Fashion, they believe, comes at a price, and Sarojini Nagar just isn't going to cut it.
And then we went back for opening morning
There were around 2600 people gathered at the mall when the store finally opened.
It was fascinating to watch as hundreds of people, stacked like dominos, waited endlessly for this one moment.
Most believe they were creating history, and they were convinced they were each the heroes of this manufactured experience. Here were people willing to give up sleep, home, clean clothing and normalcy for their 15 seconds of fame and to feel like they were a part of something bigger than them.
And to shop of course.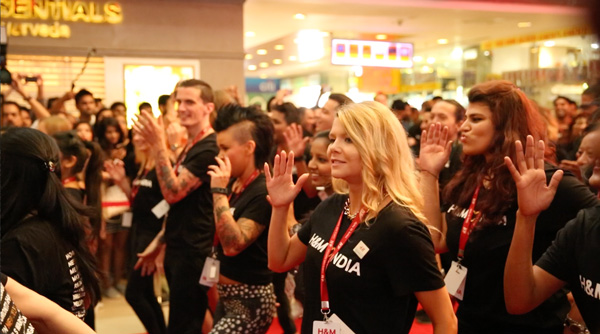 In the end, they probably got more than they'd bargained for, though not in the ways they may have imagined.
For the ones who queued up overnight, friendships were forged, phone numbers were exchanged and an experience was collectively shared. Countless selfies were taken, one's experience was chronicled on social media in real-time and the sense of accomplishment was therefore magnified.
I wonder if each of them at some point in this methodical madness, fleetingly asked themselves "what the hell am I doing here?"
If they did, the answer clearly satisfied them. And for the first three who walked away with a hefty gift card, there was a little material padding to soften the sting of a night sleeping on a carpet, even if it was a red one.