Most of us can agree that we have lost our natural selves in the urban jungle. We find ourselves caught up with and stressed out by our mundane and taxing daily routines, and in the process our bodies suffer.
This change is reflected in the rise of reported mental health disorders in the country. According to the disability census of 2011, more than 60 million people in India suffer from mental health disorders, with an expected rise of 15% by 2020. Of these numbers, what is more shocking is that there is a 90% treatment gap for patients of Common Mental Disorders-only 1% of the health budget is allocated to mental health, and there are only 43 State-run mental health institutes in the entire country. This large gap, along with the social and personal impediments to accessing help, leaves a large population vulnerable to mental health issues.
In the midst of this grim picture, drum circles are emerging across the country as a fun, novel and engaging hobby that helps people relieve stress, renew their minds, connect with their inner selves and collectively move towards better bodies and souls.
The power of community drum circles
Simply put, a drum circle is a group of people  -  from a few to as many as show up that day  - sitting in a circle and spontaneously creating music on drums and a variety of percussion instruments. It is an event open to all, regardless of age, sex, or even the ability to play drums. There is no audience, no performance and no chosen rhythm. The beauty of a drum circle is that it is creation of music through the organic process of coordination and cooperation. Here, each person is able to express herself individually through her instrument, while simultaneously as part of a wider community.
Community drum circles of this kind, which sprung up during the bohemian counterculture of the American 70s, are different but closely linked to professional therapeutic drum circles. The latter are conducted by specialists to treat social, cognitive, physical, emotional, and developmental needs of their patients.
Dr Aditya Tiwari, who is a music therapist with Mumbai's Playnasium and a regular at the monthly Carter Road jam-session, says that our bodies have a natural rhythm-from breathing, to heartbeats, to neural waves. This natural connection with percussion and music can be used to heal our mind and body, and music therapy is based on this very idea.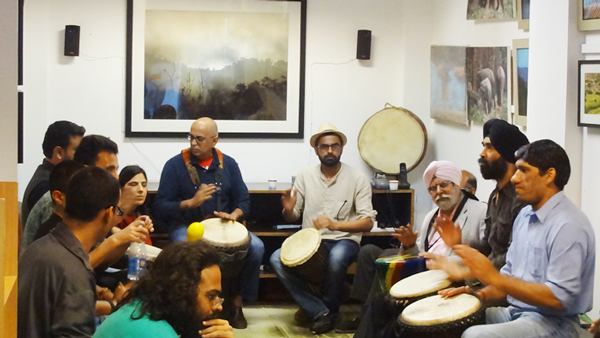 Building community ties
From the sound of it, drum circles might seem like any other hobby group, with some vague added mental health benefits. The Delhi Drum Circle, the first in the country, was started by musician Rakesh Mathur in early 2010, and most of its early patrons were inclined towards the idea because of an established interest in music.
But because drum circles always insisted on being open and welcoming, and because community building has always been at the heart of the entire exercise, drum circles developed a very dynamic and diverse composition all over the country. They ceased to be just another avocation, and have now brought together an unlikely group of people who see it as an invaluable part of their overtaxed lives.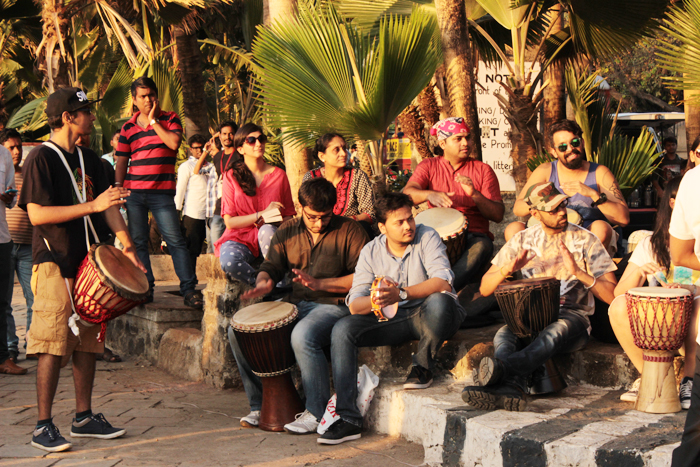 According to Mathur, a drum circle is only about you and the music you play. 'A lot of things that would've otherwise bothered you, you just block them out for one or two hours.When you are playing in a jam, there is absolutely nothing that comes to your mind. Sometimes people go into a trance, sometimes they just close their eyes and they are in a different zone altogether. It is a surreal experience.'
Poonam Kulkarni, 27, feels that while she playing in a drum circle, she ceases to be the content writer from Malad who is worried about her son's nursery admission. There is nothing on her mind, save for the powerful rhythm that is her only connection with her surroundings. 'My husband and I joined the Drum Circle last year while looking for a fun and creative past-time. But for me, drumming became much more than a hobby. Even when I can't come here, I make sure that I sit alone with my drum at home and let the beats do the magic.'
In Delhi, 78-year-old Mohinder Singh devotes most of his time to drumming and is part of every drum circle in town. He strongly believes in the power of the drum to relax the tense, energise the tired, and heal the emotionally wounded. He says, 'When I play my drums, I feel every inch of my body and mind rejuvenating.'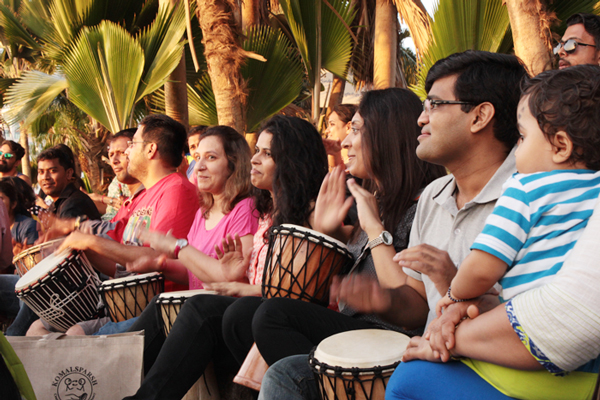 Anubrata, who is also from Delhi and is one of the admins at DDC, has always been inclined towards music. But he particularly likes the setting of a drum circle because, as he says, 'the best thing [about drum circles] is that no one bothers to ask you who you are and what you are doing in your life. You just come, play, socialise, and be yourself.'
Taal Inc, an organisation in Pune that conducts community and corporate drum circles, claims to have drummed with more than 50,000 people in the country - including American First Lady Michelle Obama on her trip to Mumbai in 2010. Drum circles in Delhi/NCR alone total more than 20,000 members, with equally successful groups in Pune, Mumbai, Ahmedabad, Bangalore, Goa, and Patna.
And it was the Gujarat CM Anandiben Patel herself who brought the trend to Vadodara earlier this year at the VADFest, when a drum circle of almost 10,000 schoolchildren were put to use to drum up support for the Swachh Bharat, or Clean India, campaign.