***
Recently, the Supreme Court upheld the Kerala government's policy to ban alcohol in the state and phase it out entirely over the next 10 years. This has caused a division among the people of the state - between those who support prohibition and those who vehemently oppose it.
Read: Is the alcohol crackdown driving Kerala's youth toward drugs?
On his recent visit to New Delhi, Catch met Chief Minister Oommen Chandy and voiced some of the crucial questions and concerns over this policy.
The CM reiterated that this wasn't a rash decision by his government. Rather, it's been in the pipeline for a while now, and the government is committed to the cause
Here are excerpts from the interview, as translated from Malayalam:
Was an alcohol ban part of your vision for Kerala from the start?
The move is very much needed. When you talk about alcohol ban, the first thing that comes to people's minds is the loss of revenue. But we're not even worrying about that aspect, because we don't view it as a loss.
The money that is spent for dealing with the effects and fallout of alcoholism, or the deaths in drunken road accidents, is much greater than this deficit in state income. There is also an intangible loss and deterioration within social and family life, which is far greater than any amount of money.
We are not imposing an outright ban. Rather, it is a gradual process of phasing out alcohol, while bringing in more awareness about the situation.
How do you propose to tackle the production of illicit liquor?
That is the biggest challenge... home-brewed alcohol or the kind made in the forest areas. We must increase awareness among the people, and strengthen law enforcement. The citizens also need to be willing to work with the government.
Does the state have the police manpower to monitor borders and entry of alcohol from other states?
Yes we do. It is the responsibility of the state to control this, and we will do it. If people try to get in alcohol via train, truck or bus, we can catch them. The police need to strongly step in here.
Also read- Kerala House beef row: Oommen Chandy cries foul, says Delhi police should've shown 'restraint'
There is rampant corruption in Kerala. How do you reconcile that with this ideal Kerala you have in mind, and the ways in which it will affect this ban?
Sadly, these are also aspects of a larger problem. This is where our will power is most important and needed.
No ban ever really works. Would it then have been more sensible to educate people on how to drink responsibly?
See, the problem is that once a person is addicted and becomes an alcoholic, there is very little you can do. Our aim is to ensure that the younger generation is not under the same influence.
It is well-known that Kerala has a booming drug culture across generations. Will this alcohol ban not increase the dependence on drugs?
I won't deny the existence of drugs in the state. This is also something we need to control through new laws and education. We cannot allow the drug culture to grow anymore.
Before the bars were shut down, men used to go there, have a few pegs and head home. Now, they're resorting to buying by the bottle and end up drinking more. The home is now the bar. And children are witness to this debacle.
I agree that there are incidents like these that happen. But we have to find a way to curb it because this will become a bigger disaster otherwise.
Read more: Prime Minister Narendra Modi to visit Kerala today amid CM Chandy row
The government's policy has completely ignored the need for counselling centres, to deal with the effects that are inevitable when alcohol is removed from the equation...
So far we've only shut 20% of outlets. The remaining 80% are still there. Even if bars aren't there, they can buy from the shop.
True. But my question is, what does the state plan to do to tackle the mental and emotional fallout of the complete alcohol ban?
See, that issue will arise only when people cannot access liquor entirely. If they walk an extra five kilometres now, they can still buy a bottle. So they aren't resorting to illicit alcohol. And that is a good sign.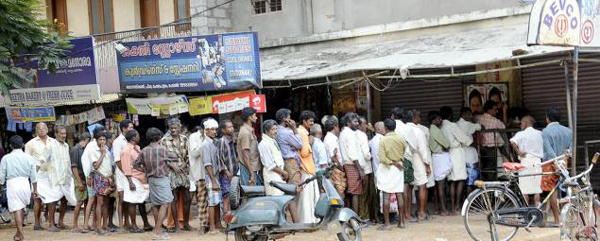 Why has the toddy industry been left out of this ban?
We haven't included toddy in the ban because it is a light liquor. Distillation of toddy will not be permitted, though.
How is the state going to cover the revenue deficit?
That is not at all a problem.
But how can you say that? Minus that income, the state will surely suffer on some front. Are you planning to increase taxes?
See, right now we aren't facing that big a loss. Bars and sale of alcohol is not fully banned yet. It will be in stages. So the effect on state income will also be gradual. By that time, we would have figured alternative sources.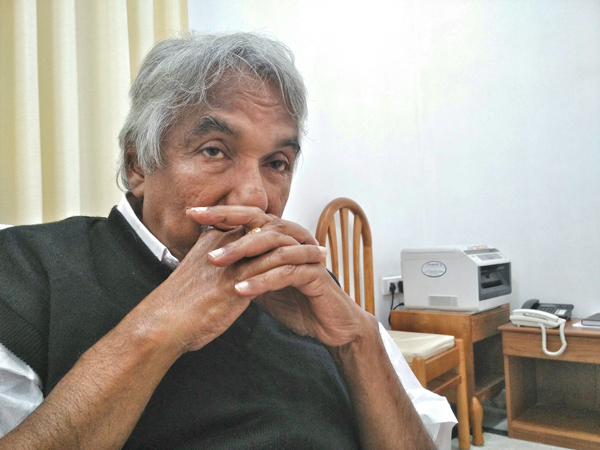 The liquor industry in Kerala employs hundreds of people at BEVCO or in bars. What happens to them when the complete ban sets in?
This ban is meant for the betterment of our society, but these workers and their families will be greatly affected by the loss of jobs and steady income. It pains us so badly to see that happen. But we will introduce a rehabilitation package for them.
But one-time cash is not a long-term solution, especially if the worker is young...
True. But for the greater good of society, this is, sadly, a sacrifice we have to make. We are committed to providing them all the help they need.
You reacted strongly when beef was banned at Kerala House in Delhi. Your government felt that the Hindu Sena had no right to dictate what one ate. Yet, with this alcohol ban, you are telling people what they can and cannot drink. Isn't that a bit hypocritical?
The difference is that the alcohol ban stems from concern about a genuine social problem. It affects so many families and children. Alcoholism is bad for the personal and public space, so we are doing something about it.
How do you react to criticism about this ban being a classist move?
The answer lies in a question you posed earlier. You asked if it was not better to teach people to drink responsibly and in a regulated manner. We'd like to believe that the crowd that comes to drink in five-star hotels is a more disciplined lot.
How can you say that? That's unfair, because those are the very people who are partially responsible for drunk driving and killing innocent people on the road.
So then, we need to have stronger police checks as they exit the hotels and also on the roads.
Would you have approached this alcohol issue any differently?
No. We intend to fully go ahead with it. This is not some sudden emotional decision. We had appointed the AP Udayabhanu Commission to look into this matter many years back. In fact, when AK Antony was CM, he had issued the ban on Arrack. That was a major step.
Also read- Protecting the third gender: did South India just get transgender-friendly?
So you fully support this ban? Because there has been a lot of talk about the differences between you and KPCC president VM Sudheeran over the nature of this ban.
(Laughs) There are no issues between us.
The party is not in any way divided over this matter?
Absolutely not. This is something the media has cooked up.
Surely there is some basis for those reports.
No, no. The media even said that this policy would not reach the veranda of the court, and would be clean knocked out. And look what's happened, the Supreme Court has backed it.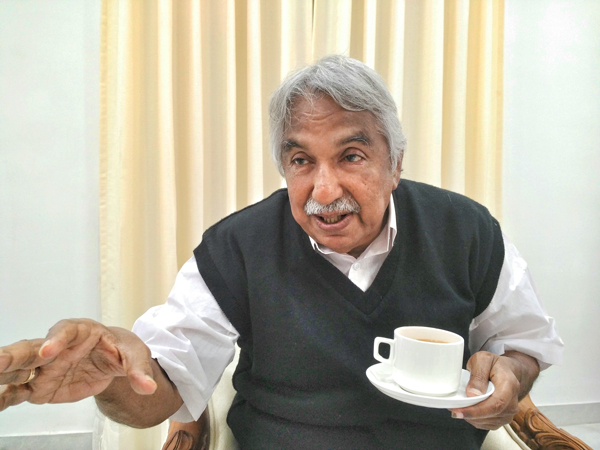 Do you not think this policy is regressive? On one hand, you see so much development, with the Metro coming up, smart city, the expansion of the Kochi airport - all of this with hopes of attracting outside talent and workforce. But this need for the government to control individual lives seems a step backward...
We want progress and change. But it has to come with quality and a moral backing. Growth without discipline or at the cost of families being destroyed... that is not something we ever want.
On a different note, the state elections are nearing. What do you think the BJP's prospects are in Kerala?
They don't stand a chance. The mind of the people in Kerala works in a different way. It will never align to the way the BJP functions, or their aspirations.
Read: Meet Natesan, the man who may give BJP a foothold in Kerala
What happens to the liquor ban and phasing out if you don't win these next elections?
The other party must be willing to recognise a good thing and carry it forward, rather than oppose for the sake of opposing.
The Congress and the CPI(M) have contemplated an alliance in West Bengal. In Kerala, the Congress and the Left could never imagine such a situation. What are your views?
I'm not the person to comment on that. My concern lies with Kerala alone. We are quite confident about how our state elections will turn out.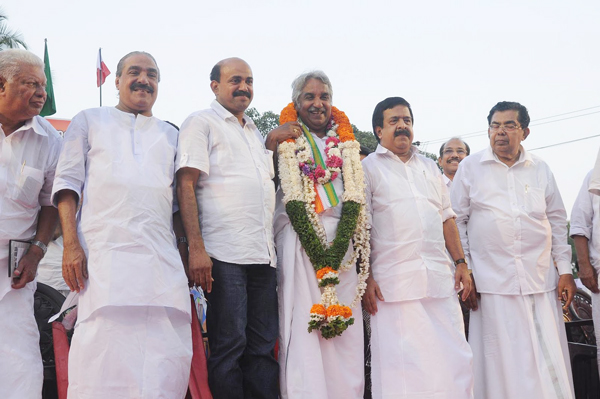 There have been allegations that the UDF is pro-minority and anti-Hindu. Would you refute that?
Look, the people in Kerala know exactly what is going on. Despite all these allegations, we still won all the elections. We started the government with a very thin majority. But now we are completing five years in a strong way. Our slogan continues to be 'Development and Care'.
What do you think of the work the Narendra Modi-led Central government is doing?
They have a lot of grand plans, but they are failing to deliver because they are not sincere. A good example is how badly they handled inflation. They didn't even do the things they could have done to contain it.
Do you see this alcohol ban aiding or destroying your vote bank in the upcoming elections?
See, we haven't brought about this ban to get votes. This is a very sincere move on our part. We may have a political loss or gain because of it. Whatever the result be, we will humbly accept it.
If you could take back this ban, would you?
Never.
More in Catch:
Forget the red carpet, these were the 8 most fabulous moments at the Golden Globes
Post poll victory: the rape reward for a Dalit woman in UP
#MohallaClinics: AAP has diagnosed Delhi's health problem. Can it cure it?
You may not know how to pronounce endohedral fullerene, but it's going to change your life